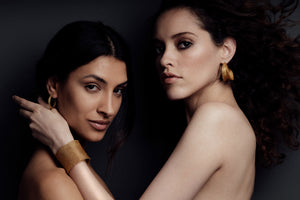 Designer jewellery for women contemporary in style, independant in their choices and mindful in attitude; advocating slow-fashion, quality design and craftsmanship.

the collection's
Origin & Inspiration
"When I discovered the intricate and beautiful technique of woven wire jewellery, an indigenous East Indonesian craft, I instantly resonated with the idea that the woven nature of the craft represents the power in women supporting women. The concept behind the weave is that whilst light, delicate and feminine, it holds such strength - reflecting how women are stronger together."
- Founder & Designer Freya Rose
The CRAFTSMANSHIP behind
woven for women
A collection of modern jewellery meticulously hand-crafted using a rare East Indonesian craft in 22ct Gold Vermeil. Each piece is crocheted by artisan jewellers using a distinctive, now specialist technique that only a small number of talented craftsmen and women can create.
ADVOCATING
WOMEN SUPPORTING WOMEN
5% of every sale made from the new The Woven for Women collection will be donated to two timely initiatives:
The Prince's Trust #CHANGEAGIRLSLIFE campaign that supports young women's futures in the UK and Freya's personal initiative which will provide women in Bali greater opportunities to learn how to make jewellery and keep the country's traditional craft techniques alive.