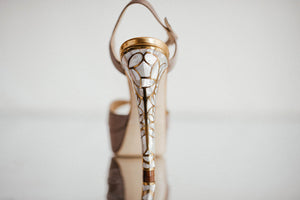 HOW TO TAKE CARE OF YOUR FREYA ROSE SHOES
Your 'Freya Rose' designer shoes have been handcrafted in classic styles using luxurious leathers, suedes and silk satins. Our unique jewelled heels use materials such as sterling silver, brass, abalone shell and mother of pearl. With the right care, your luxury shoes can stay looking fabulous. Here are our top tips to ensure your shoes remain in great condition from an aisle, to a dance floor, to a something borrowed. Here are our top tips to help maintain your designer 'Freya Rose' heels.
How to clean
Leather Shoes
Leather can be cleaned with a damp cloth. Freya recommends using a neutral coloured polish to avoid colour mismatches. Natural leather polish will condition your leather shoes and keep it supple. Its like moisturising the skin!
HOW TO CLEAN
SUEDE SHOES
Suede has a very fine nap. Please take extra care when cleaning suede.
You should never use water on suede - instead, use a suede brush to gently brush any dirt off of shoes. Freya Rose recommends using a suede cleaning block called 'Wolly'. You can protect your shoes with a suede spray but please read the instructions fully to ensure they are safe for your shoes before using.
Please note shoes cannot be dyed after being sprayed with a suede protector. 
HOW TO CLEAN
SATIN SHOES
Satin can be cleaned using a soft, slightly damp cloth, and left to dry naturally. Spray protection can be used, however, please note shoes cannot be dyed after using spray protection. 
CARING FOR YOUR
Sterling silver, brass & mother of Pearl heels
These precious materials can be easily be cleaned by gently wiping down with a damp cloth. We provide a small silver cloth with your purchase which can be used to polish the silver and brass if it gets tarnished. Although these heels are more hard-wearing than a heel covered in material such as satin or leather, damage can still occur – if any damages occur, we provide a repair service - just contact our team at info@freyarose.com.
embellished styles
CRYSTALS & PEARLS
Crystal and pearl details on the shoes are handmade and very delicate and are not designed to be worn daily. To restore sparkle, gently wipe your shoe trims with a soft cloth to remove any dust that might dull crystals or pearls.Beads and trims may be lost or damaged if caught or snagged. If you happen to lose any beads, don't worry - replacement beads for trims can be requested from us by contacting our team at
info@freyarose.com
or
0044 (0) 845 371 4466