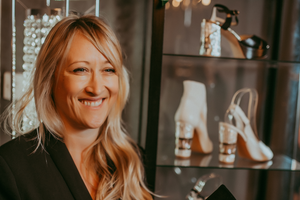 Award winning designer
freya rose
Freya Rose's eponymous label redefines British modern luxury. Her unique collections incorporate her knowledge of fine jewellery to create luxurious, jewelled shoes, using precious materials such as mother of pearl, brass and sterling silver.  Her collections have gained her international awards and she is fast becoming regarded as one of the UK's leading shoe couturiers.
"SHOES ARE MAGICAL, THEY CAN TRANSFORM THE WAY YOU LOOK AND FEEL"
SCULPTURAL, WEARABLE WORKS OF ART
Freya Rose creates shoes are sculptural, wearable works of art that transcend the boundaries of design whilst reflecting the wearer's individuality.   She designs timeless, contemporary styles, which can become heirloom pieces. Her global appeal is visible across stores, media and through some of the world's most revered style icons from Kate Moss and Rihanna to Olivia Palermo selecting her designs.
The Freya Rose woman is contemporary in style, independent in her choices and global in her attitude.  Her style is not influenced by fast-fashion, as she preferences to invest in design, which lasts a lifetime.
Freya's Inspiration
I'm mainly inspired by the tranquillity of our natural world, from the night sky to landscapes.
Paradise comes from the Persian word 'Pardis' meaning "a beautiful garden enclosed behind walls".  A walled-garden is truly my paradise.
I find myself most calm and happy surrounded by nature.  As a child my father taught me 'always have time to stop and smell the roses'.  He would often take me to a local rose garden where there were over 100 different varieties of roses, a spectrum of colour in bloom.  Their perfumed scent in the air, particularly in that golden hour of light in the afternoon, was magical and almost hypnotic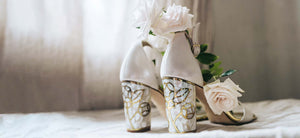 Freya Rose's philosophy has always been to create unique, timeless collections that incorporate her expertise in, and passion for fine jewellery. The provenance and traceability of the materials used in Freya Rose's designs and the care for the people she works with are fundamental to her business philosophy. Freya Rose has worked alongside her artisan shoe couturiers in Spain for over 10 years, considering them part of the Freya Rose family and knowing each and every person that turns her designs into a reality. Freya Rose's signature mother of pearl heels and jewellery are responsibly sourced in Bali, where she has also worked with the same family for 10 years, now employing 10 jewellers. Freya Rose believes that preserving and supporting these ancestral craft techniques is essential in a fast, modern world where globalisation degrades these ancient practices and often exploits those involved in the process.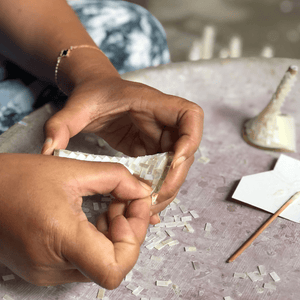 Highly skilled craftsmen work alongside her to handcraft every style. No two pairs will ever be the same.