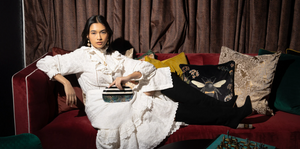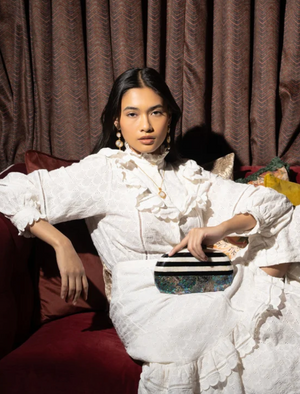 Be bold in strength & beauty.
Embrace bold beauty this A/W with statement designs to enhance unapologetic self-expression. Showcasing entrancing designer women's shoes and divine pearl earrings the Warrioress collection boasts beguiling organic tones and wild sculptural silhouettes that transform native influences into contemporary opulence.
Why WARRIORESS?
"Female empowerment is a subject I'm incredibly passionate about, particularly over the last two years through working with The Prince's Trust and becoming their first recipient to be an ambassador for the Women Supporting Women initiative.
Leading up to the conceptualisation of my latest collection, I became deeply inspired by stories of historic female warriors and wanted to develop a line that embodies the strength and beauty behind the legendary women I read about."
BEHIND THE
Inspiration
Symbolism, particularly from Native American cultural expression, heavily influenced our statement Warrioress designer womens shoes and pearl jewellery as Freya resonated with their deeply spiritual culture and respect for nature.
Bold geometric portrayals of celestial bodies and natural wonders are interlaced within the collection, an idea sparked by the beauty of native tribes' use of symbols to communicate their dreams and stories.
EHTICAL INTEGRITY FIRST
BEHIND OUR CRAFTSMANSHIP
As advocates of slow-fashion Freya Rose collection offers eminently stylish women the perfect opportunity to invest in long-lasting quality pieces. The provenance and traceability of the materials used in our designs and the people we work with are fundamental to our business philosophy.
READ ABOUT OUR ETHICS