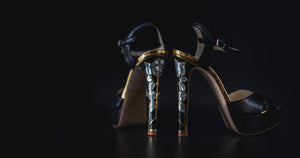 HANDCRAFTED JEWELLED HEELS
Pushing the Boundaries of Design
A LIMITED COLLECTION
wearable works of art
Handcrafted jewelled heels, no two pairs will ever be the same. Shoes to be treasured forever.
A marriage of
shoes and jewellery
Incorporating Freya's knowledge of fine jewellery to create luxurious shoes, using precious materials such as mother of pearl, brass and sterling silver. Each pair takes over 100 hours to craft and only 20 pairs, per style, will be made per year.
THE CRAFTSMANSHIP BEHIND
OUR JEWELLED HEELS
Every part of the ethically sourced shell is carefully cleaned, cut and polished before being hand inlaid by experienced artisans to create unique statement designs.
Freya Rose believes that preserving and supporting these ancestral craft techniques is essential in a fast, modern world where globalisation degrades these ancient practices and often exploits those involved in the process.
Custom content
Use this advanced section to build your own layouts or to add custom HTML, Liquid, or scripts.